Route 57
7 April 2003
The 57 provides a useful link across south London between Kingston, Wimbledon, Tooting and Streatham, although the original 57 concept was rather different, linking Tooting, Streatham, Brixton and Victoria. When the Victoria Line opened, bus services between Brixton and Victoria were drastically reduced, the 57 being one of the casualties.
Amazingly, the section between Kingston and Wimbledon via Coombe Lane was not served until the 1960s, and even then the 57 did not run on Sundays for many years. By contrast, during the 1990s the 57 has gone from strength to strength, now providing an 8 minute daytime service. The service is also extremely busy in the evenings, thanks to the night life available in the Streatham Hill area. Despite that, proposals for a night version were dropped, as they were not thought to offer value for money – but, unlike some of the other suburban night routes introduced recently, an N57 would probably be very popular, at weekends at least!
For a time the 57 was operated by London & Country, who split the operational load between Leatherhead and Croydon garages — neither exactly ideally located! Westlink was the original benefactor when the route was re-tendered in 1997, but had by then been taken over by London United, which has subsequently eliminated the Westlink identity. It was initially run from the rather depleted former Westlink base in Kingston, although saw operation from Fulwell for a while. After several failed attempts a replacement for Kingston garage (which was demolished and replaced by the 'Rotunda') was secured at Tolworth, in the former coal yard beside the rail station there. This is a large site but once again quite a long way off the 57 route.
A new contract started recently. In addition to frequency increase, this brought a requirement for the initial fleet of Volvo Olympians to be replaced by low floor buses, and Alexander bodied Dennis Tridents were specified. Their introduction was phased; an initial allocation of 10 allowed some of the Olympians to be cascaded onto newly won school routes from September 2002, but the remaining vehicles were held back for three months to allow for the early start of new route 148 at Shepherd's Bush. The 148 received its own vehicles during December, so that the Tridents were finally all on the 57 by early January.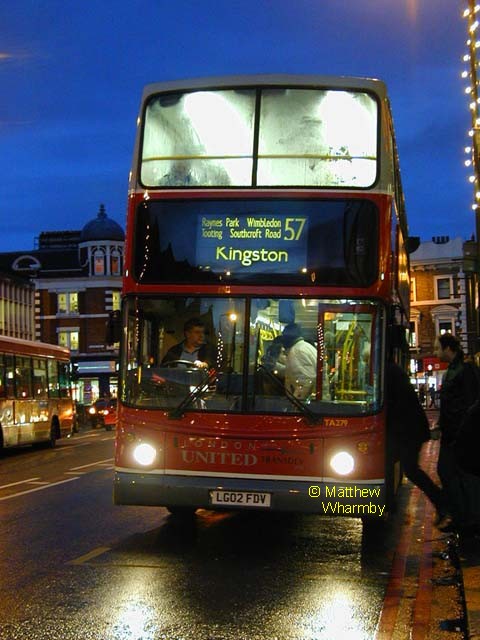 Photo by Matthew Wharmby.
Here TA 279 (LG02 FDV) picks up passengers at dusk on 2 January 2003, in Tooting and bound for Kingston. The Transdev badge, which has replaced the historic London United coat of arms on some of these vehicles, does not show up very well on the obligatory red base.
Navigation
| | | |
| --- | --- | --- |
| | Previous | Next |
| Chronologically | 180 | 34 |
| Numerically | 56 | 58 |
See also routes 131, 281

Photo Gallery | Bus route list | Operational details | Service changes | Operators & Garages