Home | Bus routes | Operational details | Service changes | Operators & Garages | Photo gallery
---
Route 555
12 February 2005
Surrey County Council supported routes 555/556/557 have recently been victims of the many service cuts in the area. More and more commercial operators are giving up and a large proportion of the county's bus network is now supported, placing a huge strain on the council's transport budget, and it was inevitable that the generously specified 555 group would suffer as a result.
Following two very successful 5-year terms with London United, the contract was awarded to Tellings-Golden Miller with a reduced level of service. Nonetheless the route survived a major cull of Sunday services in Surrey; although matters have improved since, it is still one of the most comprehensive services in the County, although early and late journeys were withdrawn. Some early morning journeys to Heathrow were quickly re-introduced for shift workers.
The 555/556/557 run as a co-ordinated service, each running essentially hourly, providing a 20 minute service over the common section between Shepperton and Heathrow. One journey an hour is numbered as a 556, operating via Nursery Road instead of Sunbury, and one as a 557, running off to Chertsey and Addlestone instead of Walton.
Heathrow Airport is the key to the success, because BAA Heathrow is very much pro-public transport. A major package of improvements introduced in 1999 included low floor operation using brand new Plaxton Pointer 2 bodied Dennis Darts. Tellings-Golden Miller have again obtained new Darts, albeit smaller ones this time – London United's were 10.7m long and dual door, and it is not clear why the 8.8m size was thought appropriate when a frequency reduction was taking place as well.
Anyhow, like both batches of Darts used by London United, TGM's vehicles for the 555 carry a special livery, silver this time, and are thus dedicated to the route. Here 342 (KV03 ZFR) arrives at Heathrow on 13 January. T-GM's gold name sits well on practically any colour scheme, from their standard white through silver and green to TfL red, although can be a little indistinct in some cases.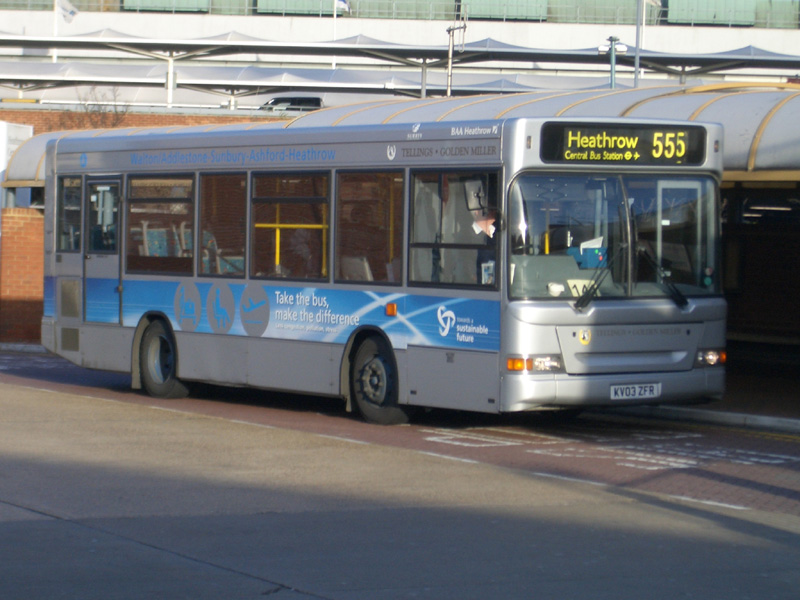 Photo © John Nicholas Bennett.
There have been numerous changes over the years, although the routes are still recognisable. The 557 originally provided the evening service, covering the most important sections of the 555 and 556, and also running out to Weybridge; there was no Sunday service. At the Heathrow end, the routings have been standardised with all buses now running via Hatton Cross and Terminal 4 between Heathrow and Stanwell. Previously route 555 had run via the Western Perimeter Road and Stanwell Moor (with the 557 going one better and serving the whole lot!).
It is worth noting that the 555/6/7 provide the main "regular" bus link between Heathrow Central and Terminal 4 on the perimeter, although the importance of this role is now dimished as the Heathrow Express provides a faster (and equally free) link between the two. Previously there was only the option of using the Piccadilly Line, and that would have meant changing at Hatton Cross in one direction.
The hourly service to Chertsey is now provided by the 557 rather than the 555, after an intervening period when it was run as a separate route, the 575. The 555 runs to Walton instead, joining the 556, so that there is now a direct service from Sunbury to Walton. The Chertsey service has also been extended to St. Peter's Hospital, and further during shopping hours to Addlestone. All 557s now run to Addlestone (apart from one that starts in Sunbury on Saturdays). The 556 used to miss out Shepperton, leaving this to the 555; again this has now been standardised, with all buses running via Shepperton, largely to replace loopy route 567, which was withdrawn. However, Weybridge is no longer part of the agenda; at one time peak journeys on the 556, as well as the 557, went there.
London United, then still a subsidiary of London Buses, took over the 555/6/7 from Armchair in 1993 using a mixture of new and nearly new standard Dennis Darts (DRL class), and latterly these were painted into a slight variation on standard London United livery with a graduated shade of red and route branding. As mentioned earlier, these were replaced by low floor Darts in a blue livery in 1999, some of the first low floor buses for London United.
In 1995 the 556 was diverted via Shepperton, and full evening and Sunday service was added to both routes, together with an extension to Walton-on-Thames station. Thus the evening 557 was withdrawn, but a new 557 provided a daytime service to Chertsey and St. Peter's Hospital, replacing the 575. This was upgraded a little in 1996, and further changes in 1997 saw the 555 diverted via Hatton Cross to match the 556/7, Western Perimeter Road now being adequately served by London & Country's revamped (but sadly short-lived) Surrey network.
In 1998 the 557 was extended from 0900 to 1700 to Addlestone, making it somewhat longer than the others, and a short-lived peak hours extension of the 555/556 from Walton via Rydens Road and Cottimore Lane was taken off.
The inevitable 1999 timetable change was primarily to improve reliability, with extra buses added to the schedule and more running time allowed where needed. That is one bad feature of the routes, that there are no bus priorities anywhere on the routes, aside from a bus-only turn into Sunbury Tesco and a recently introduced bus slip at Heathrow North. The morning peak on Mondays to Fridays is particularly bad, with the running time being increased by around 20 minutes to cope with the extra congestion.
Very little has occurred between then and the transfer of the routes to TGM in June 2003. The following map summarises the routeings described above.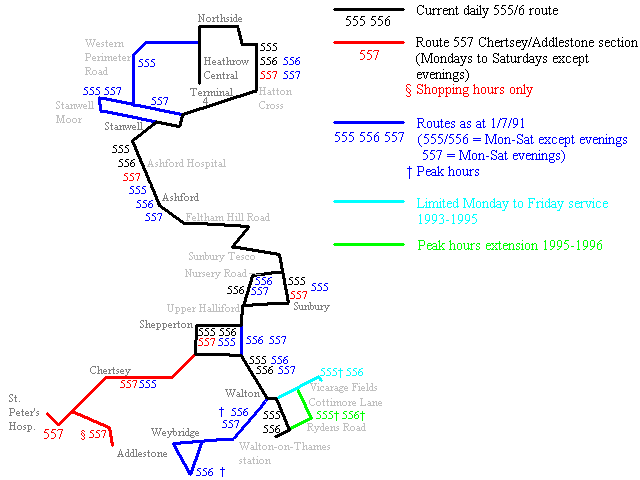 Navigation

See also routes 556, 557

Photo Gallery | Bus route list | Operational details | Service changes | Operators & Garages