Home | Bus routes | Operational details | Service changes | Operators & Garages | Photo gallery
---
Route 234
12 August 2009
Metroline has disposed of all its Marshall bodied Darts, and hence a new photo is required for this page. The 234 has been converted to Pointer bodied Darts, in the 10.2m length, and so we have DLD188 (Y248 NLK) in Barnet on Friday 15 August 2008.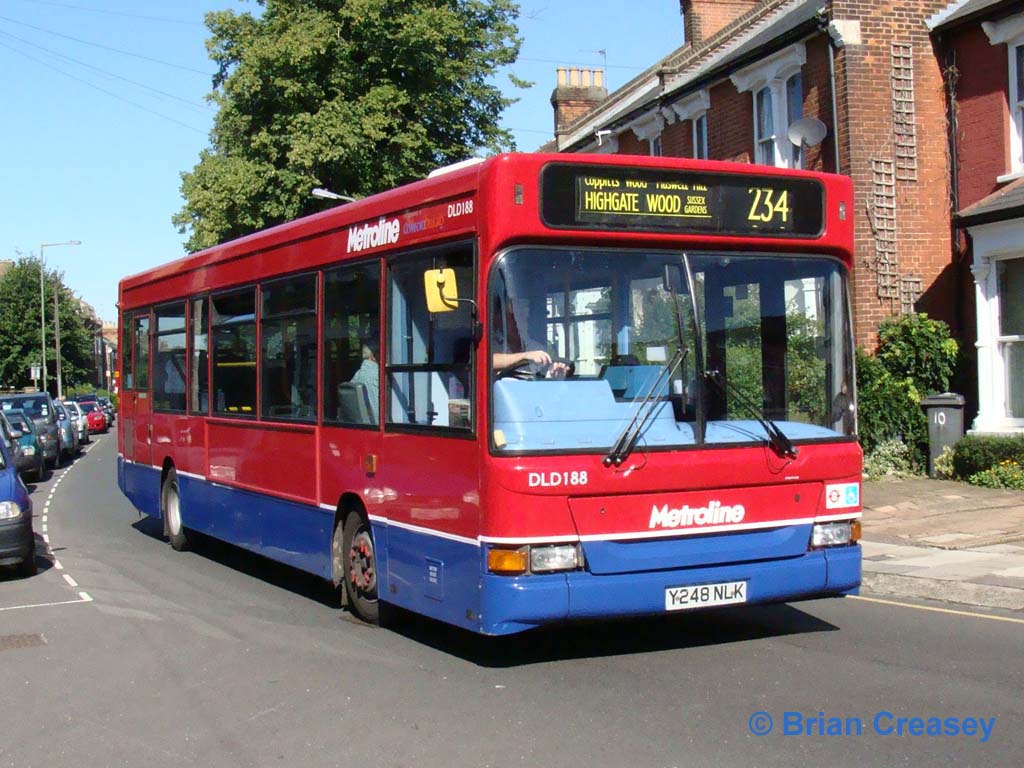 Photo © Brian Creasey.
The route had had a restriction on shorter buses, thought it is not quite clear why. But in May 2007 there was a short term need for buses for route E6 owing to late delivery of new buses, so the Marshall Darts were pinched from the 234 and replaced by DLDs that had been displaced from the 251 by new buses. Although the Marshalls returned briefly (the DLDs going to the 84 – where they did not last long either!), TfL rather liked the idea of longer buses on the 234, and so the arrangement was made permanent when the opportunity arose when route 90 got new buses.
Brief history of route 234, with thanks to Selassie Lawson for compiling it.
Started 7th October 1989 as replacement for withdrawn section of 134, running between Archway and Barnet Church with Metrobuses and Volvo Ailsas from London Northern's Potters Bar (PB) garage.
From 1991, route extended to Barnet Hospital, although early morning/late evening journeys ran to Potters Bar.
25th June 1994: Diverted via Coppets Road instead of Colney Hatch Lane, withdrawn between Muswell Hill and Archway, and Barnet terminal changed to The Spires.

Garage journeys running during the day to Potters Bar (instead of just early morning and late evening journeys).
Converted to midibus operation with SR class Optare StarRiders.

31st January 1998: new contract: route completely withdrawn between Barnet and Potters Bar, but extended from Muswell Hill to East Finchley via Fortis Green.

New low-floor DMS class Darts introduced, originally ordered for MTL London (who were operating the route at the time), but quickly painted into Metroline livery as that company purchased MTL London Northern.

31st August 2002: extended from East Finchley to Highgate Wood, buses terminating at Sussex Gardens there.
Navigation

See also routes E6, 251, 84, 90, 134

Photo Gallery | Bus route list | Operational details | Service changes | Operators & Garages