Home | Bus routes | Operational details | Service changes | Operators & Garages | Photo gallery
---
Route 148
21 November 2007
A number of new routes were introduced in central London during late 2002 and early 2003, in preparation for the introduction of Ken Livingstone's congestion charge. Although many were just splits of existing routes, some innovative new links were created. Undoubtedly the most successful of these routes is the 148, which plugs a number of obvious gaps in the previous network, and which has been operated very reliably by London United from the outset.
In particular, previously all routes running eastwards from Victoria via Victoria Street turned north along Whitehall or to Waterloo, so the 148 provides a direct link between Walworth and Elephant & Castle and Victoria for the first time. The Elephant is of course a major interchange with other routes, such as those from the Old Kent Road. A similar south to west link is provided at Marble Arch, and the 148 provides useful additional capacity along the Bayswater Road and through Notting Hill Gate, to relieve the 94.
The 148 has had rather more than its fair share of new vehicles since then, having had no less than six separate batches allocated new to it in less than 5 years! The mainstay of the allocation now comprises three batches, all based on Scania vehicles. The first 15 of these are the first examples of the integral CN94UD OmniCity product from Scania, which to the writer seems to set a new standard for quality. Previous Scania chassis have been delivered mostly with East Lancs bodywork, which is a poor complement to the Scania, but Scania at last seem able to produce bodywork free from leaks and rattles, and which also looks the part! Here SP14 (YN56 FBY), one of the second batch, picks up passengers in Terminus Place, Victoria, on Saturday 2nd December 2006. Note the non-standard livery, with a red (not grey) skirt and black window surrounds and frontal moulding.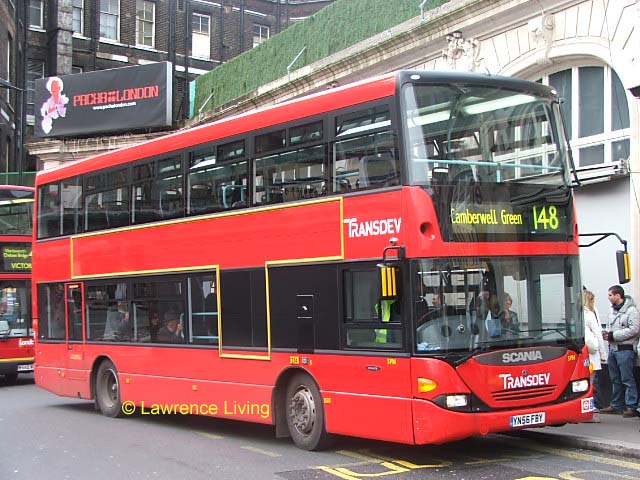 Photo © Lawrence Living.
The newest buses on the route are again Scanias, but unlike the previous batch are Euro IV engined (meaning lower emissions). The chassis is designated as N230UD. They were ordered to cover the extension of route 131 to Tooting, but again were allocated to the 148, setting up a cascade of older buses out of Shepherd's Bush, to maintain standard types elsewhere. Unfortunately, Scania were not able to guarantee acceptable delivery dates, so East Lancs Olympus bodywork was specified instead. SO8 (YN07 LHY) is seen at Marble Arch on Wednesday 29th August 2007. Like the SP above, this bus has the yellow advert frames used on buses in central London, which attract premium advertising rates – but, as yet, devoid of any adverts!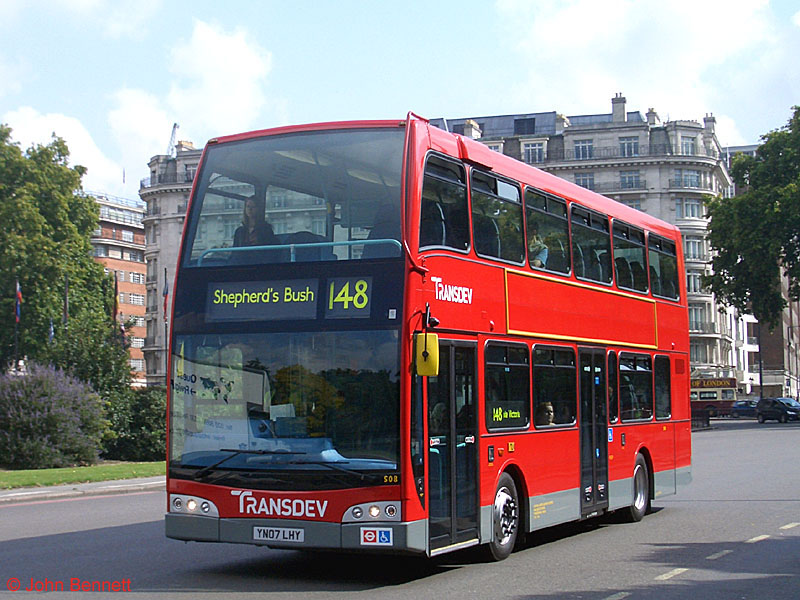 Photo © John Bennett.
This type actually comprises two batches, although they were delivered almost consecutively. The first 7 were to cover for the wins of routes 697/698 at Hounslow, plus the aborted schoolday only replacement for route 467 – naturally it made more sense to use the new buses on another route and transfer older buses onto the school routes. The latter 8 were to allow for a frequency increase on route 27.
In an experiment to reduce vandalism, leather seats have been fitted. These are also high backed for maximum comfort, although, as can be seen, the ones immediately above the driver are not for some reason! Note also the unusual light design, with tiny, but high intensity, headlamps. The indicators are curious as well, being surrounded by a ring of small white lights. The photographer commented that it was like a jeweller setting amber in the middle of a circle of diamonds!
A major technical hitch has came to light with these vehicles, and delayed their entry to service considerably. Buses, and especially those built to London specification, have been getting gradually heavier over the years. Features such as individual seats, cab and saloon air conditioning or cooling fans, more complex engines, straight staircases and full height saloons have all added to vehicle weight. Coupled with the switch to low floor, forcing much equipment to be located above the floor height and requiring stronger bodywork versus a lighter chassis, this has pushed the centre of gravity up to a point where it is touch-and-go whether vehicles pass the tilt test required for certification. In the case of the SOs, the threshold has now been passed, and there was no other option than to re-distribute their weight. Two seats have been removed upstairs and another two turned around. Experiments have also been conducted fitting weights to the chassis, although this is hardly the most enviromentally friendly solution. Indeed, in my view a fundamental re-think of vehicle design and specifications is overdue – it is all very well messing around with fancy technology to deliver marginal improvements in carbon and other emissions, but it is being cancelled out by increased vehicle weights and fuel consumption. The latest buses are nearly twice as heavy as Routemasters, and yet have fewer seats and only a slightly higher total carrying capacity!
The first new buses on the route were Alexander bodied Dennis Tridents. These only lasted for a few months and were only a stop-gap until the next buses arrived, which were Alexander bodied Volvo B7TLs. This came about as a result of a couple of changes of plan: initially the start date was deferred for three months to help ease the build-up of staff at Shepherd's Bush garage (with other enhancements happening at the same time), and delivery of new Volvos was scheduled accordingly. However, the original start date was achieved after all, meaning some new Tridents being delivered for route 57 were temporarily pilfered from Tolworth garage. The VAs are still at Shepherd's Bush, mainly on routes 49 and 220, but there are not quite enough Scanias to go around so a few will still be seen on the 148. VA297 is seen at Marble Arch bound for Camberwell.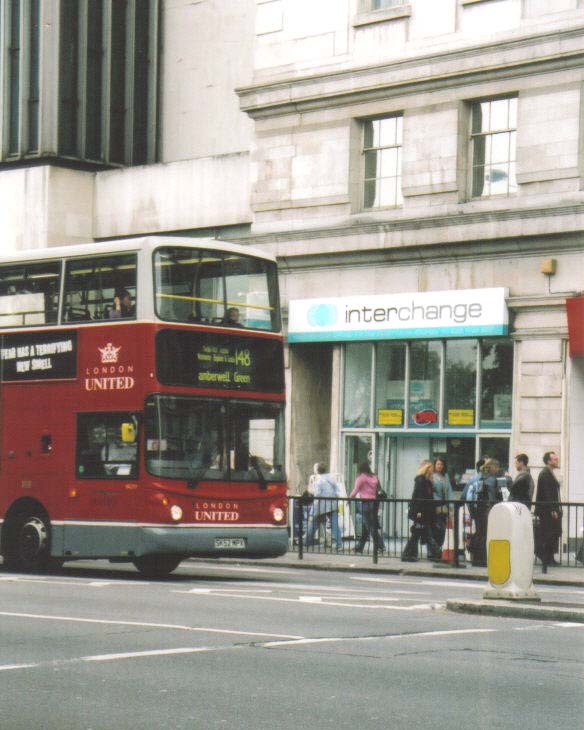 Photo © Jordan Young.
From the outset the 148 has been a 24 hour operation, although initially the night service operated as N148 before the introduction of 24 hour branding. Representing the night service is VA 296 (SK52 MPV) picking up passengers at the second stop on Shepherd's Bush Green, heading for Camberwell Green.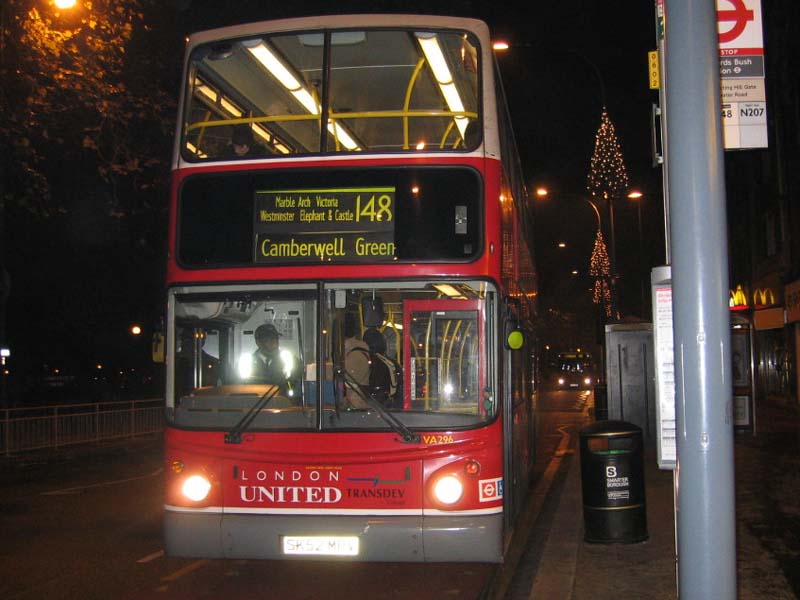 Photo © Ivor Cleave.

The original VAs were later supplemented by 6 long wheelbase Volvos with East Lancs bodywork, bought for a frequency increase from 6 November 2004. An increase would have been justified anyway, but the reason for this was the bendy bus conversion of route 12: due to a tight turn at Oxford Circus, the 12 had to be cut back from Notting Hill Gate to Oxford Circus. Other routes were altered to cover; in particular the 148 increase was to help passengers from Camberwell and Walworth who wished to travel through to Marble Arch or Notting Hill Gate. There are surprisingly many end-to-end passengers on the route, helped no doubt by the fact that it escapes most of the worst congestion and achieves the 8 mile journey in just over an hour, which is quite fast for a central London route, and considerably quicker than the 12 via Oxford Street.

Then, as mentioned above, most of the 148 has been converted to Scania operation, with a total of 24 of this type now on the route, just covering the peak vehicle requirement without spares. In the first and third re-shuffles, The VAs from the 148 transferred to the 49 and 220, where they displaced older VAs (and a couple of TAs) to Hounslow. In the latest re-shuffle, these in turn displaced TAs from Hounslow to Fulwell. In the middle re-shuffle, the VLEs delivered in 2004 were transferred to Stamford Brook, joining the rest of the batch on routes 9 and 27.

Navigation

See also routes 94, 131, 697, 698, 467, 27, 57, 49, 220, 12, 390, 9

Photo Gallery | Bus route list | Operational details | Service changes | Operators & Garages